Escale à Sète
The participation of the AWG group in the Escale à Sète on Saturday, March 31st went very well.
Luckily, the weather was good that Saturday; the crowd was very welcoming; the two-hour long parade in which we participated was very animated, the atmosphere was fun.

Walking in the parade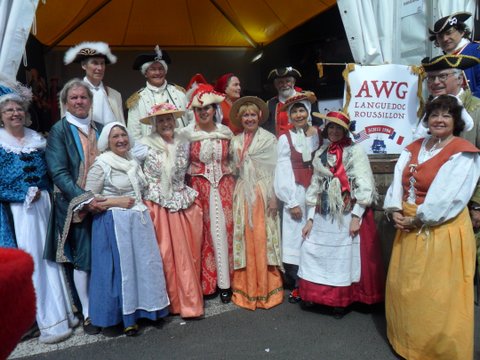 Singing in front of the Amis du Château de Castries stand
In front of the Hermione
Singing four sea shanties at four different sites along the quais in Sète
Our effort included getting our costumes in one way or another, relating to our seamstress in Sète who was our intermediary, recruiting AWG helpers such as Genette, Sue , Kathie, Susan and Katharine C for different tasks. It involved learning the songs and practicing together several times over the last three months. Barbara hosted our singing rehearsals and regretted not being able to sing with us on the day.
Behind our banner designed by Jean-Renaud, Michael-Elisabeth's husband, there were six paraders/singers, Maquita, Jennifer, Jessica, Michael-Elisabeth, Jan and Pam. We had the pleasure of having professional singer Kamala join us on the day.
I think this project brought us in contact with people in the community and reflected very positively AWG's spirit.