Starter Roasted Fennel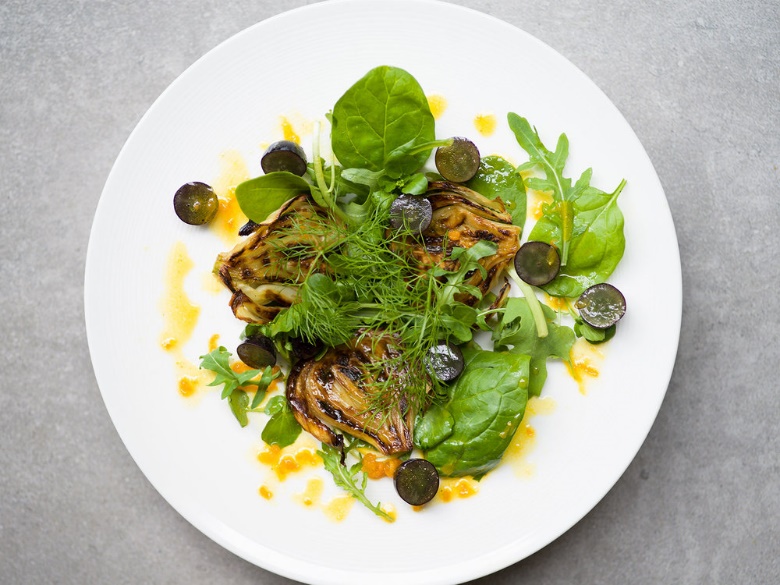 Another light, simple and easy to make salad, using only 4 healthy ingredients... salad leaves, fennel, orange & grapes. The salad has a deep roasted flavour from the fennel slices which contrasts deliciously with the sweet grapes, and the zingy, citrus flavours of the reduced orange juice and zest brings the whole salad together. Bish, bosh... ready in 30 minutes, and 20 of those is waiting for the fennel slices to roast!
If you wanted to make it more substantial try serving it with Spiced Duck Breasts - click here for the recipe.
ingredients:
Salad:
2 Fennel Bulbs
2 tablespoons Olive Oil
a couple of handfuls of mixed salad leaves, such as Watercress, Rocket & Spinach
a large handful of Grapes, halved … I used Sable Grapes
Freshly Snipped Wild Fennel or Dill Fronds
Dressing:
2 large Oranges
2 tablespoons of Olive Oil
Maldon Sea Salt & Freshly Ground Pepper
method:
Preheat the oven to 180°C/355°F.
Cut the fennel into chunky slices, keeping the stems intact, and drop into boiling water for 10 minutes. When the fennel is tender place the slices onto a baking tray and roast for approximately 20 minutes or until they have charred slightly and taken on a roasted colour. Remove from the oven and put to one side. Whilst the fennel is roasting make the orange dressing.
Make the dressing:
Zest the oranges, then squeeze both of them. Put the zest and juice into a small saucepan and bring to the boil. Turn the heat down and reduce to half its volume then put it to the side to cool.
When cool whisk in the olive oil and add seasoning to taste.
Serve:
Arrange the salad leaves across a large serving platter or individual plates.
Carefully add the cooled roasted fennel slices, and sprinkle grapes over the platter.
Finally dribble over the orange dressing and top with the Wild Fennel or Dill fronds.
Serve immediately.