FAWCO News- January 2019

Dear AWG Members,
Happy New Year to you all and wishing you happiness and success in all your projects for 2019!
I am looking forward to the upcoming FAWCO Biennial Conference in Edinburgh March 21-24 and I would love if some other members of our club would like to join me in Bonny Scotland. This is one of the best ways for all participants to understand the many facets of FAWCO. You can't help but become inspired. There is still time to register online.
At the upcoming conference, delegates will vote to approve FAWCO's Resolutions and Recommendations (R&Rs) for 2019‒2021. The R&Rs are guidelines for FAWCO and Member Club action over the next two-year period and should be suitable for practical implementation.
Here are the draft Resolutions and Recommendations submitted by the 2019-2021 R&Rs committee. Please read them and send any comments or feedback you may have to either me at This email address is being protected from spambots. You need JavaScript enabled to view it. or directly to the R&R chair at This email address is being protected from spambots. You need JavaScript enabled to view it..
Also a reminder that the DEADLINE for submission of the Education Award Applications and Development Grant Nominations is January 27th.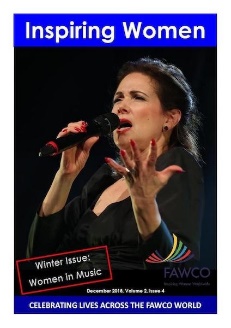 INSPIRING WOMEN- Winter Issue
There are amazing profiles as well as a few surprises! There have been some enhancements added that make this issue more than just a magazine. It's a whole new experience!

If you want to subscribe to receive the magazine, please click on the link. Subscribe to Inspiring Women Direct subscribers get it direct from the Inspiring Women team.
Please let me know if you have any trouble accessing the FAWCO website.
Best wishes,
Orla Blundell
FAWCO Rep