What is FAWCO
Founded in 1931, FAWCO is a non-partisan, not-for-profit corporation that serves as an umbrella network linking over 75 independent American and international volunteer organizations for citizens living overseas. Click here to read Fawco News
How you may help?
Don't want to donate money but still want to help? Have something to donate to our FAWCO fundraisers? read more
Internet Shopping to support the FAWCO Foundation
http://smile.amazon.com or www.iGive.com/FAWCO and The FAWCOFoundation will benefit from every purchase you make, at no extra charge to you. Check out Vonage for unlimited calling to the US and over 60 other countries. The FAWCO Foundation receives $50 for each new Vonage customer referred. The offer is not limited to FAWCO members. To date $2031.86 has been donated just by using iGive for shopping! The Foundation will benefit from every purchase you make, at no extra charge to you.
People who have lived outside their own country see the world through different eyes from those who haven't had that opportunity. Our experiences are quite different, our friends more diverse, we (and our children) are likely to speak another language or two, and we are familiar with other cultures, through residency or travel. In short, our perspective has changed. And so have we. Back in North America, we often feel just as we did when we moved to another culture: like a stranger. "The purpose of the [FAUSA] Association shall be to facilitate the repatriation experience of its members and to help them maintain their international ties in order to bring about a better undestanding between the United States and other nations." FAUSA members get the chance to network with other 'repats' at regular regional get- together. These fun-filled events take place in Boston, Cincinnati, Detroit, and Washington DC......just to name a few.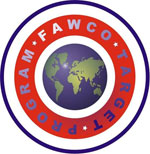 The New Target Program.
Speaking of fundraising, hosting a dinner or an 'apéro-dînatoire" is a fun way to help.You choose the theme, the date, the number of people you can host, and the amount you will charge for the event. The costs are your own contribution, but you can add a bit to the price to cover the cost of wine, or ask attendees to bring a bottle.
One of AWG's fundraising efforts is the sale of used books. Members donate books, and the club resells them for one euro each. These funds are ear-marked for FAWCO, either as part of a club donation, or to help pay for the FAWCO rep to attend the annual conference. The FAWCO books collection has recently been enhanced by the donation of more children's books. We also have some books in French which might interest your friends or family. All the FAWCO books are available for you to browse at your leisure, at a relatively accessible location, at Maggie's. Contact her if you would like an alphabetical list of the books. There's still room on the shelves, so feel free to donate more books.
House Bill introduced to study how U.S. policies affect Americans overseas. FAWCO is happy to announce that Reps. Carolyn Maloney (D-NY) and Mike Honda (D-CA), have introduced H.R.597, legislation to create a Federal commission to study the impact of government policies upon the millions of Americans living overseas. read more.
Girls leadership worldwide read more
How well do you know Montpellier? read more

Looking for a good book to read? read more