Thomas Jefferson in Montpellier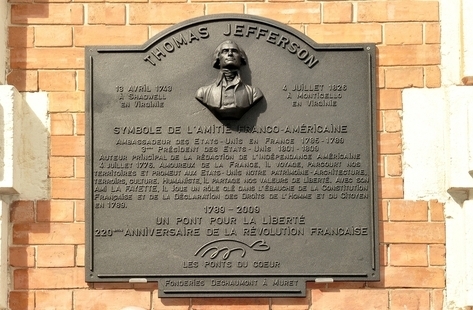 AWG was represented at the unveiling of a plaque honoring Thomas Jefferson at the Maison des Relations Internationales in Montpellier on Wednesday, March 24th. Also present were Kathleen Riley, US Consul General in Marseille, Hélène Mandroux, Mayor of Montpellier, Pierre-Jean Meurisse, founder of the association Les Ponts du Coeur (The Bridges of the Heart), Mr. and Mrs. Bernard Dechaumont of the Fonderies Dechaumont à Muret, members of the Montpellier Municipal Council, and representatives of other Montpellier associations. The plaque was produced by the Fonderies Dechaumont à Muret and donated by Les Ponts du Coeur in conjunction with the celebration of the 55th anniversary of the twinning of the city of Louisville, Kentucky, with Montpellier. The project A Bridge to Freedom (Un Pont pour la Liberté) has joined 34 cities, each of which, since 2009, has put up a plaque to commemorate the passage of Thomas Jefferson on his journeys across France.

 

To read more click here

1st April 2010.